Aci Sant Antonio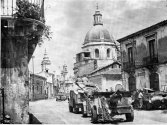 After the fall of Catania's 13th Corps continued its march north through the narrow strip between Mount Etna and the sea. The journey through this densely populated part of Sicily was costly and slow.
On August 8, 50th Division drove through Aci San Antonio aci san antonio…
View of Piazza Raimondo Cantarella. The village has many churches, so it was time to find the right one.